The Student Media Center at the University of Mississippi has an amazing crew of dedicated student managers who produce compelling content across multiple media platforms. Here's your chance to meet them!
Advertising Sales Manager: Rebecca Brown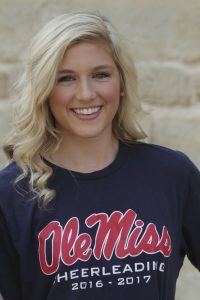 It took Becca Brown only three months to prove she was ready to be advertising sales manager for the Student Media Center.
Brown, a junior marketing major from Yoakum, Texas, is a former Ole Miss cheerleader. Her goal for this year: to increase the profitability of the SMC's publications, broadcasts and websites, and to increase the brand's recognition around campus and in Oxford.
"The most successful person in the company gets told no 95 percent of the time, but they are making more calls than anybody else," Brown said.
Roy Frostenson, SMC advertising adviser, describes Brown as focused, ambitious and goal-driven. "She's dedicated to helping the Student Media Center expand our advertising revenues, especially our digital and broadcast sales," Frostenson said.
Brown said a friend recommended she apply for a sales position, and she is glad she did. She supervises a staff of five account executives.
"My favorite part is that I'm really kind of treated like an adult when I go to my clients, because a lot of times they don't realize that we are in college," Brown said.
"And that's something that I have never really gotten before in any other job. They treat me like I'm on the same level as them. They treat me with professionalism, and I do the same with them.
"It's so rewarding working really hard on something, and thinking of a pitch, and working with the client, and looking at what you think they would like, and when they say yes, it makes all those little things so worth it."
Brown worked for the Edward Jones investment company in Texas last summer, and she hopes to return to work there next year. Her long-term goal is to open her own office as a financial adviser.
NewsWatch Station Manager: Abbie McIntosh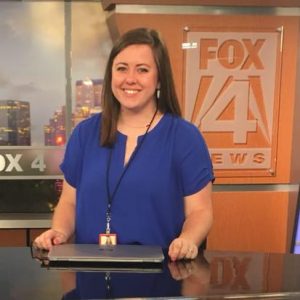 Abbie McIntosh is in her second year as station manager for NewsWatch Ole Miss. Rarely does a student serve two years in the top position.
"I was terrified this time last year," McIntosh said. "But it all worked out. It's been good. I like managing, calling the shots and producing. It's stressful, but it's good."
Nancy Dupont, journalism professor and NewsWatch Ole Miss faculty adviser, said she was delighted McIntosh applied to be station manager again this year.
"She pushes herself harder than I ever push her," Dupont said. "She already has excellent habits, so I expect bigger and better things this year."
McIntosh is focusing on working with her team to deliver the best show possible Monday through Friday evenings. She is in charge of a staff that includes more than 30 producers, directors, anchors and correspondents. They are in the newsroom each afternoon producing a live, 30-minute newscast for Lafayette County that is broadcast on Channel 99 and is also available on websites and via livestreaming and social media.
"I hire them in September, and I want them to walk out in May better than they were when they walked in the door. Hopefully, I can help them achieve that," McIntosh said.
This senior broadcast journalism major from Cypress, Texas, is a big fan of breaking news and highlights the December 1, 2017, newscast as her all-time favorite. The award-winning show featured breaking news about sanctions against Ole Miss Athletics and its football team.
Earlier this year, McIntosh was awarded first place as Best Television Hard News Reporter from the Southeast Journalism Association, and she was part of a multimedia reporting team that placed in the Top 20 in the national Hearst journalism competition for a project about Oxford church members helping a Texas community recover after Hurricane Harvey. In October, she was one of three broadcast students who traveled to Florida to report on rebuilding efforts after Hurricane Michael.
In summer 2018, McIntosh landed an internship with KDFW Fox 4 in Dallas. Her eyes were opened to all that it takes to get a newscast on the air, and it strengthened her passion for the buzz of the newsroom.
When she graduates in May, McIntosh plans to work as a television producer.
The Daily Mississippian Editor-In-Chief: Slade Rand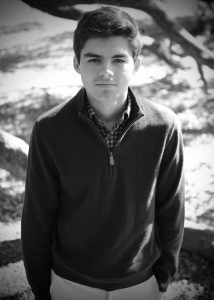 Since the day he was introduced to Assistant Dean Patricia Thompson at the Student Media Center, Slade Rand has been hard at work at The Daily Mississippian.
"She connected me with then Managing Editor Clara Turnage, who just brought me in right off the bat and told me to come along with her to an interview with the director of parking and transportation," Rand reminisces. "She helped me lead the interview and brought me to the office and told me to write the story, gave me suggestions and made a graphic to go along with my story and then put it in the paper."
Rand initially was an integrated marketing communications major, but switched to journalism at the end of his sophomore year when he realized how passionate he had become about reporting and writing. He honed his skills by participating in three depth reports in Mississippi and Sri Lanka, led by journalism instructor Bill Rose.
This year, Rand, now a senior, leads a staff that includes about 15 student editors and several dozen writers, photographers and editorial cartoonists.
"We want to be producing editions that people are going to keep with them and put on their walls," Rand said. "Not just because they look nice, but because it reminds them about things they can be doing to better our campus, things they can be doing to better their own lives."
Faculty adviser Thompson said Rand has put together a "dream team" of very talented editors who have done an outstanding job covering major breaking news stories in an unusually busy fall semester, and planning and producing special sections tied to important issues.
"Slade works very hard, for hours every day," Thompson said. "He's a strong editor who also can write well on tight deadlines, and he has great range from news to profiles to music reviews."
When Rand graduates in May, he plans to pursue a career doing what he loves best: storytelling.
"Now that I have had a taste of this, I don't think there is another job I could do that would make me feel as satisfied or productive at the end of the day," he said.
The Ole Miss Yearbook Editor-In-Chief: MacKenzie Ross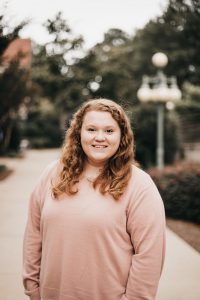 This Oxford native did not have to go too far away from home to find her passion. She found it at the Student Media Center.
"I already knew Professor Chris Sparks, and she told me about the Student Media Center so I came over," Ross said. "I got to meet some really cool people my freshman year. It was her interest in me that sparked my interest here."
Ross, yearbook editor-in-chief, wants to focus on the campus' hidden gems and continue increasing the online presence of the yearbook.
"We are focusing on the things you might forget," Ross said. "We are also excited to be back in the Student Union for portraits, getting students interested in coming into the Union to get a look before it officially opens to everyone."
Ross hopes students are keeping up the yearbook's social media networks, where content is frequently updated. Students can see photo galleries and stories that might not make it into the printed book.
Assistant Dean Patricia Thompson said Ross is a top-flight designer, a strong leader, and super organized. Ross's staff includes assistant editors, writers, photographers, designers and artists.
Thompson said it has been fun to watch how well student managers have worked together this year.
"MacKenzie is a senior who has worked for the yearbook and The Daily Mississippian, and those two staffs collaborate on stories and photos," Thompson said. "Abbie has worked for The Daily Mississippian and NewsWatch. One recent night, when she knew her DM colleagues would be here late producing a special report, Abbie brought them cookies to keep them energized. MacKenzie has designed an SMC T-shirt for all the students who work here."
Ross is president of the campus Society for News Design chapter. She also was part of the Hurricane Harvey team that placed in the Hearst competition, and she won SND awards for digital storytelling for the Harvey project and for her magazine cover for the Sri Lanka depth report.
Ross said her plans for her post-graduation future change almost every day, but she knows that as long as she has a career where she creates graphic designs that inspire others, she will be happy.
Rebel Radio Station Manager: DeAndria Turner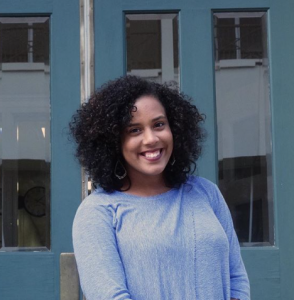 DeAndria Turner got her start in Rebel Radio during her freshman year. Turner, a junior broadcast journalism major, serves as manager of the entire station this year.
"She's a true Rebel Radio veteran and did a good job for us last year as news director, so this was a natural move for her," said Rebel Radio adviser Roy Frostenson. "The best thing about DeAndria is she always wants to do better, and I think she will help Rebel Radio be even better this year."
The Gautier, Mississippi, native wants to make Rebel Radio more known on campus to a wider variety of students. She is proud of the staff's diversity, in its staffing and in its programming, which features an eclectic variety of rap, oldies, underground, indie and even life-advice shows on 92.1 FM.
"I want our DJs and reporters to be able to be light in our community, to be able to play the music or have the segment they want to do because sometimes the right song and the right place and the right time could change your life," Turner said. "Music is just a really big thing."
To inspire and motivate her staff, Turner has placed dozens of colorful sticky notes on the radio studio window, with phrases like "We can't always choose the music life plays for us, but we can choose how to dance to it" and "Enjoy small things."
Turner fondly remembers that during her freshman year, Leah Gibson was station manager and appreciated Turner's persistence. Today, it is one of the adjectives Turner uses to describe her strengths, and she is thankful to have been given the space to tell others' stories on Rebel Radio.
This past summer, during her internship with WMC Action News in Memphis, Tennessee, Turner gained experience working on the digital team, shadowing reporters and even doing her own reporting. It was an exhilarating experience, and Turner said the most important things she learned were to take initiative and stay flexible in order to be a well-rounded reporter.
Turner plans to return to Rebel Radio as news director during her senior year, as she prepares to get an on-air local news broadcast job after college.
Article by Ingrid Valbuena
Tags:
Student Media Center